As calendar year 2019 unfolds and we move toward Lent, Domenico and I, along with our collaborators, send you greetings filled with gratitude for your partnership in the
Rachel's Vineyard Italy Mission
.
Here in Italy we are in
Carnival season
, with Venice, Viareggio and our own nearby Putignano being Italy's 3 most well known venues. This is the season not only of general merrymaking and rich foods. It's also the season of masks!
Those we serve often speak of the
"masks"
they wear as they try to anesthetize their inner pain by living superficially. The Italian culture of
la bella figura
("looking good") encourages such covering up and often feeds the fear of going deeper to uncover, give voice to and heal a suffering such as that of one or more past abortion experiences. This time of year we always put front and center on our Italian website HomePage an article that speaks of these "masks".
On Ash Wednesday priests across Italy will sprinkle ash on the heads of those making their way for a brief visit into unusually overflowing churches. (No sign of the cross on the forehead here, just a "poof" of dust on the hair!) The ashes remind us that "we are dust and that in our mortal state we are desperate for someone to save us."
These words of a Southern Baptist missionary in Germany struck me. I share with you her further reflections, as they very much speak to our Italian reality and to the work of this apostolate:
"I wonder how many people with ash fresh on their foreheads will still be wearing masks. Will the ashes be painted onto masks or onto truly repentant hearts? Will they be a license to sin for a season, or a reminder of mortality and the need for repentance?
Not all our masks are as obvious as the decorated porcelain masks of Carnival, but we can still hide behind them. The longer a mask is worn, the more comfortable it feels and the harder it is to take off. In a world where beauty, success, and perfection are valued, it's hard to remove the mask and reveal the real person behind the facade. I may be able to mask my pain, discouragement, desperation, shame, and sin from other people, but I can never hide them from God.
Is repentance truly genuine if a person indulges in fleshy desires and assumes that in the days to come he or she can earn forgiveness by pious deeds and self-denial? Doesn't true repentance involve removing the masks we wear?"


As you prepare for
your Lenten observation
, we invite you to consider the Italy Mission among those worthy beneficiaries of your almsgiving generosity. We must still fully self-finance our activities, and our ongoing stateside relationship with the 501(c)3 organization
Rachel's Vineyard of Colorado
continues to facilitate your active role in helping meet that need.
The
Year 2019 Response Form
details how to make a
tax-deductible
Gift
to the
Rachel's Vineyard Italy Mission
, to be sent by check to California for forwarding to Colorado.
PLEASE NOTE
: that form includes a
NEW ADDRESS for your donations
, as my longtime friends, a Deacon couple in the Diocese of Monterey, have volunteered to receive and forward to Colorado our Italy Mission gifts this year and next.
Those who wish to make a credit card donation (and our few English-speaking friends here in Europe) may instead make a (
non
-tax-deductible
) donation to the Italy Mission by
PayPal
. Such a gift will be deposited
in Euros
directly into our Italian account dedicated
exclusively
to this apostolate.
June 2017, Rome
Italy Mission leaders Monika and Domenico with priest Fr. Rito (blue shirt) and former participants,
a married couple, after our workshop given at the "Mistero Grande"
Marriage Preparation and Enrichment National Conference
A couple attending the workshop that day, thanks to their priest's invitation,
participated in our July retreat after a late-term "therapeutic" abortion,
and our November retreat included another married couple who learned of us through the same conference.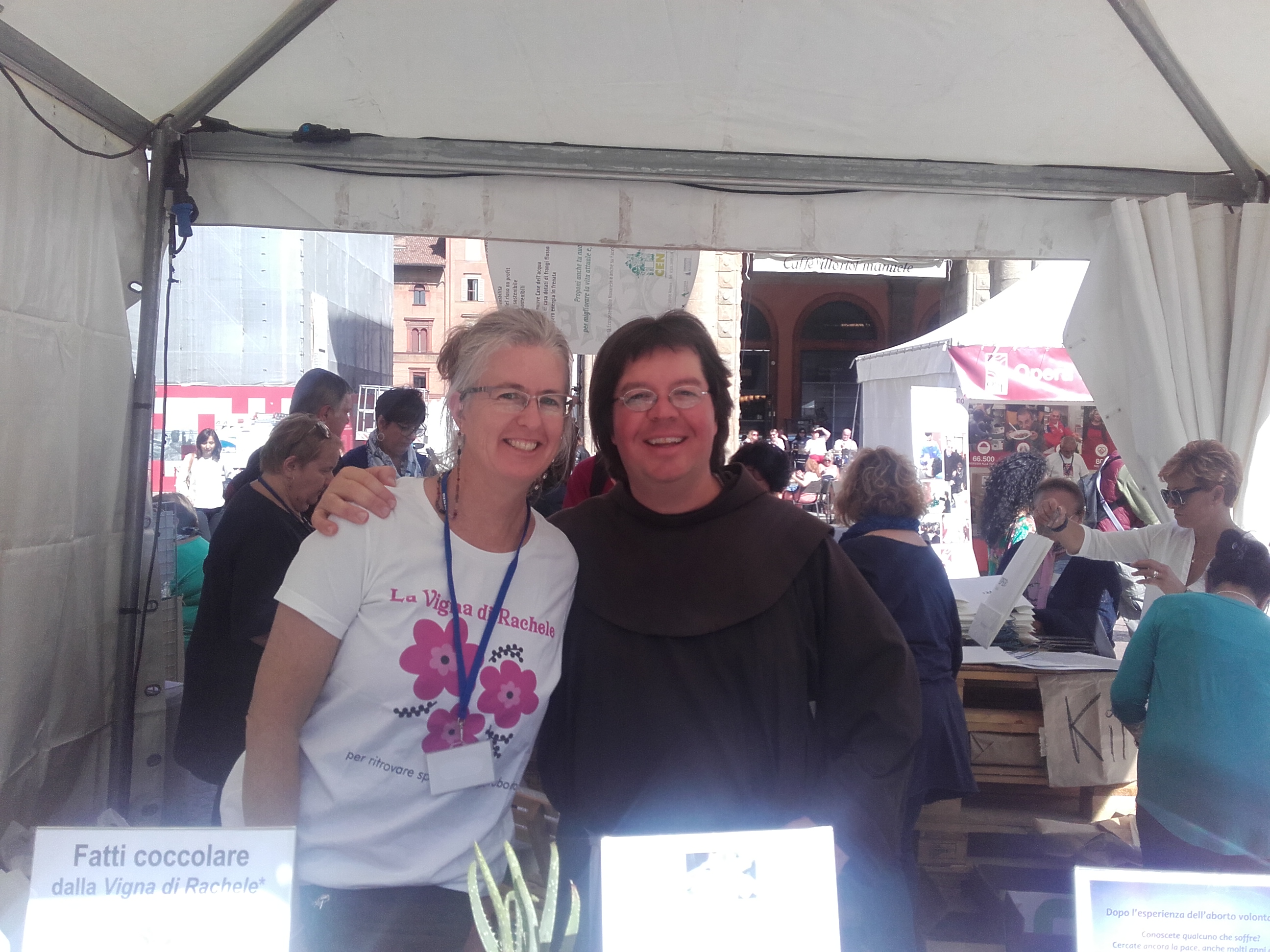 Italy Mission founder and director Monika Rodman Montanaro with our Franciscan collaborator, fra Daniele
September 2017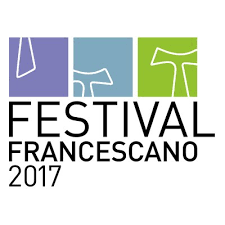 "We have been called to heal wounds, to unite what has fallen apart,
and to bring home those who have lost their way."
- St. Francis of Assisi
Our 4-day Franciscan Festival exhibit (twice this size on a highly visible corner) offered not only printed materials
but also a chance to be cared for with a drop of handcream or a spray of rosewater.
Our team of ambassadors (all former participants) often ended up speaking at length with passers-by,
who on numerous occasions were stunned that our volunteers had been through the abortion experience themselves
and were now willing to talk about it in such a way that might bring hope to others.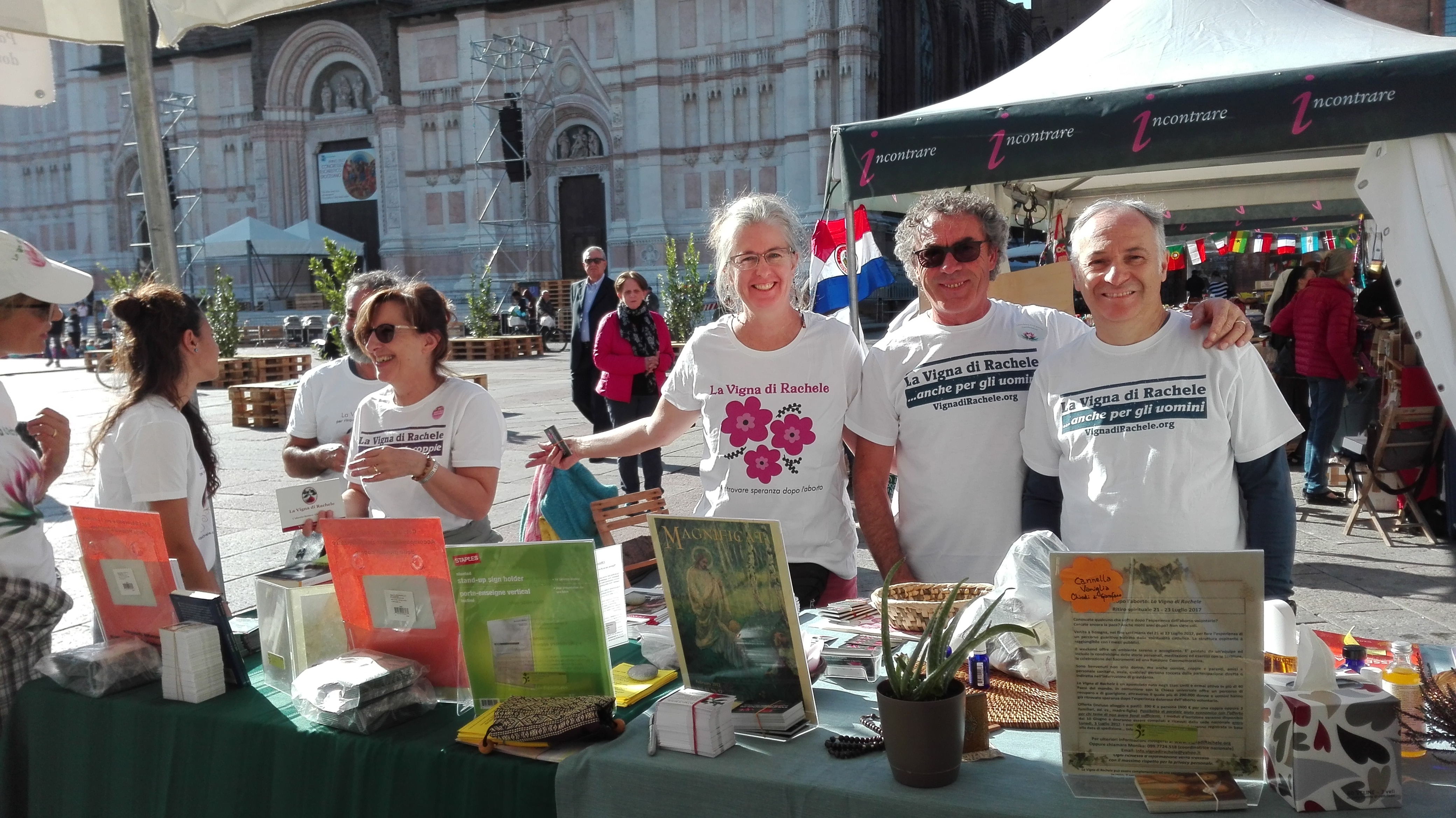 Monika and Domenico with past-participant ambassadors at Bologna's Franciscan Festival
(individuals, 2 married couples and a father-daughter team)
September 2017



Aerial view of Bologna, Italy

Monika and Domenico before the July retreat at the Poor Clares convent in downtown Bologna
The sisters are cloistered but by no means cut off from the world!
They helped sponsor our outreach at the Franciscan Festival.
"Grazie, sorelle!"


Mons. John Cihak
from the Archdiocese of Portland,
a priest with extensive experience in post-abortion pastoral care who served in Rome for 8 years,
annually invited Monika to join him in speaking to Italian and international clergy
doing ongoing formation at the John Paul II Institute for Marriage and Family.
We look forward to continuing our relationship with this university.
Our
annual Mission trips to Rome for a day of outreach at Italy's March for Life have undoubtedly been a success!
Most recently, religious sisters (two of whom have also participated in our retreat) joined past participants in distributing materials before, during and after the walk.
One of our former participants (
in above photo
)
, whom we'd not seen for 6 months, remarked that in the year since the retreat her personal physician, whom she used to visit frequently with various problems, had run into her and joked she must have changed doctors because he'd not seen her for so long!
Such can be the amazing effects of releasing and resolving old hurts such as abortion wounds, and we rejoice to hear such stories!
Having finally made peace with God, herself, and her never-born child, this former participant now radiates joy and tranquillity and is continuing with diligence the spiritual path on which she's embarked.

Ever wonder why??
You may notice we post very few photos
of our team members and participants.


We'd love to publish more,
but we are extremely respectful of people's privacy and
only publish photos if all subjects have agreed
for their image to appear on the internet.
Even some of our most dedicated team members understandably prefer to retain their anonymity.
While some past participants feel called to later speak publicly of their abortion experience and healing,
we never push such a move, but encourage prudent discernment of any such decision.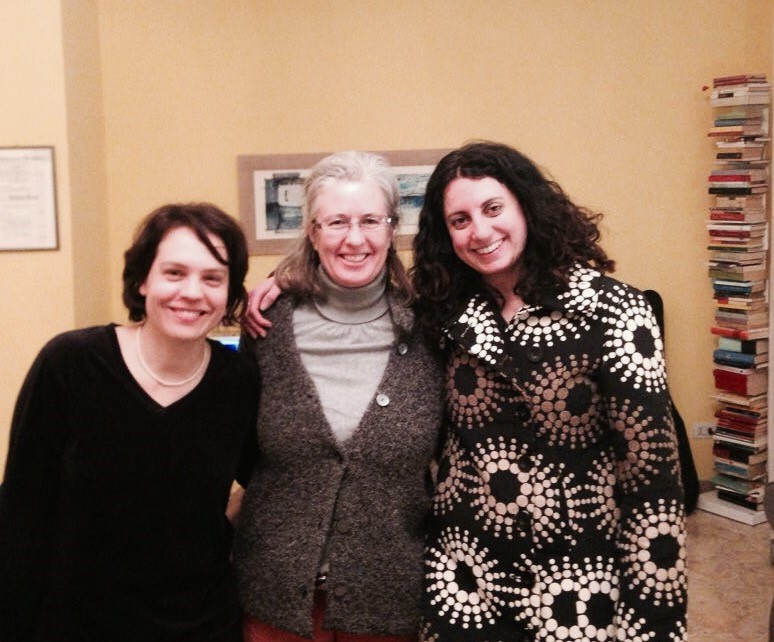 March 2017 Rome seminar "The Experience of Abortion"
Italy Mission founder and director Monika Rodman Montanaro with 2 collaborators.
Several former participants of our program attended this public event and spoke of their experience.
Clergy collaboration: A precious treasure!

An Italian priest in his 50's wrote to us:
"I'd like to take part in your retreat to better be able to help the many women who confess this sin, this wound, this problem. With the Pope's authorization many people are deciding to confess it - here at our church (NB: a Marian pilgrimage site in N. Italy) we are seeing greatly increased numbers, including penitents who aborted 50 years ago and those who'd never confessed this before. I realize confession alone isn't sufficient, though. And I feel I don't know how to really help them because I see they need something more, something deeper that I can't offer them."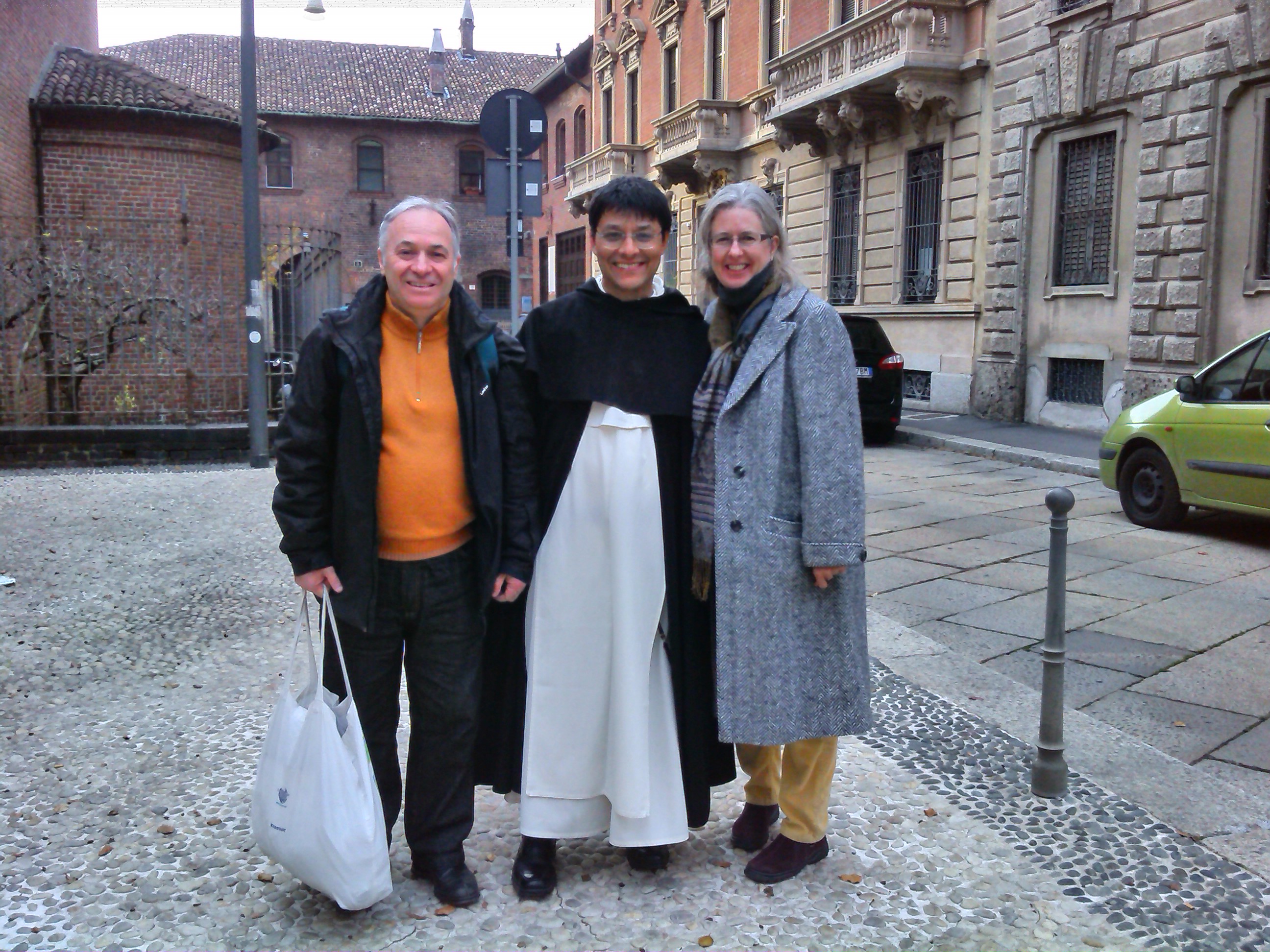 Milan
Our Dominican priest collaborator Fr. Cristiano is from Brasil but has served in Italy for over 25 years.
Despite having been transferred from Bologna, he continues his work with us.
Please read of one of the fruits of Fr. Cristiano's work:
Elena's Story
Fr. Cristiano serves at Milan's famous church, the Basilica of
Santa Maria delle Grazie
. It's most well known for being the home of Leonardo DaVinci's painting,
The Last Supper
, so many people think of this church as a tourist destination, but it's also a vibrant Christian community in one of Milan's nicest neighborhoods.
Stumbling into a confessional at this very church on a hot summer's day,
Elena
met Fr. Cristiano and discovered the
Rachel's Vineyard
Italy Mission.
At age 53, but still mother to a young child, she was at the end of her rope trying to deal with a decades-delayed reaction to the trauma of an abortion undergone at age 16 plus the realization that the fertility clinic (in Spain) that had more than once used donated eggs to produce her 5 year-old daughter had also discarded multiple embryos. A breast cancer diagnosis and 2 years of treatment had lead her to reflect on all this in a new light.
Elena hadn't practiced the faith since her teen years. Her husband of 10 years was nearing the end of his patience with her emotional outbursts and psychological fragility, so Elena's only hope was to return to her psychotherapist (which we certainly didn't discourage).
She recalls:
"I entered Father Cristiano's church totally at the end of my rope. I was a wreck and I thought they were going to take my daughter from me. My husband didn't know how to help me - he was losing his patience for my yelling and other erratic behaviors. We were both exhausted and didn't know where to turn."
Fr. Cristiano spoke at length with Elena and told her about
Rachel's Vineyard
. She called us immediately and we had several lengthy phone conversations during the summer. Another team member, who's also dealt with infertility, companioned her, as well.
One month after participating in the Fall 3-day retreat with her husband,
Elena wrote:

"The days in Bologna were a marvelous grace that has given me a new way of looking at my entire life.
If the Lord has taken me by the hand and brought me to to point of being able to meet all of you, it means that maybe I deserve another chance and I want with all my heart to seize it.
Alfredo and I feel very close and it seems to me we're finally looking in a common direction.
It's so beautiful to go to Mass on Sunday with our daughter, who, we've discovered, goes there with joy!
She also asks us to pray with her before bedtime.
.."
Two months later the couple participated in the 4th day of their retreat and continued to reap the blessings of hope restored. Then Elena's husband was transferred to work in North Africa and the entire family made the move. Elena remains in contact with other women from her retreat and the family continues their practice of the Christian faith. Her husband sent a gift to help us with our first-ever outreach at Bologna's Franciscan Festival. His brief message? "We will always be grateful to you!"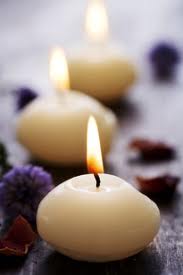 It's been your prayers and financial support, together with the remarkable commitment by our Italy retreat team (priests and past-participants) that have allowed us to reach those like Elena.
Your gifts at Year-end 2018 and in 2019 will help us not only help individual women,
but offer marriage-saving help to families like Elena's!
Fruits of the Jubilee Year of Mercy 2016

You may recall that the Jubilee Year of Mercy included Pope Francis' conferring to all clergy of the world the priestly faculties to deal with any abortion excommunication and absolve this sin "in one sitting". (Formerly it was Franciscan, Dominican, Carmelite and other mendicant order clergy who had that authority, together with Jesuits and the bishops'
penitenzieri
, i.e. priests hearing confessions at cathedrals.)
On November 21, 2016 Francis extended his new policy permanently. In the United States this changed practically nothing in pastoral practice, but Francis' move was
truly big news for post-abortion pastoral care in countries like Italy
, where longstanding restrictive policies had created a tremendous silence and led many to perceive a miserliness in the invitation to seek God's Mercy after abortion. At least some clergy sometimes found themselves preoccupied about how to proceed with a penitent confessing abortion. That preoccupation has had a chilling effect on the Italian Church's ability to respond pastorally to this tragedy which has touched so many individuals, couples and families. We're delighted to help Italy move into a new era in this regard.
Since the Jubilee Year Monika has helped mentor a new retreat site, the first in Slovenia
(in the former Yugoslavia, next to Croatia and Austria, near Italy's northwest border). Our relationship with Slovenia begain 4 years ago when we welcomed on our retreat a participant from there. She then returned and over time found a Jesuit priest with whom to collaborate, with whom Monika has spent many hours consulting by Skype.

Further reading
:

These words, by now well known in American Church and pro-life circles,
remain largely unknown here in Italy
. So much so that we continue to distribute a lovely postcard designed for posting on bulletin boards at parishes and hospital chapels.
Reaching "Rachel" in Italy: The Cultural Context
My burden lifted forever
Advent Special!
Laura Keynes, December 3, 2015, Catholic Herald (U.K.)
Released in Advent 2015, this post-abortion conversion story is by a British author with a doctorate in philosophy from Oxford. Her story also points to the need of so many women and men to continue a journey of inner healing even after celebrating the Sacrament of Reconciliation.
Europe's Down Syndrome "Thought Police"
LifeSiteNews,
November 29, 2016

In recent years we've had increasing requests for help from women and couples who aborted a child with health problems, most often Down Syndrome. It's truly "open season" on these children, ironically in a time when "disability rights" are gaining visibility everywhere but in the womb. This news report shows how far Europe will go to censor any message that might touch on the post-abortion trauma many of these moms and dads carry inside.
After Abortion Why Can't I Feel Forgiveness?
Theresa Bonapartis, July 14, 2014,
Aleteia
A spiritual challenge common to many women and men...
What Happens When People Share Their Abortion Stories
Cullen Herout, June 9, 2016
The Federalist
Written by a mental health professional who for 5 years has served in Rachel's Vineyard


Why We Should Welcome Abortion Narratives
(30 April 2014,
First Things)
A society growing toward greater maternal support and respect for the dignity of all human life needs these narratives, even the ones that do not end in remorse. By giving women narrative, they are empowered in precisely the way their pregnancies left them feeling powerless. And they encourage those of us in the pro-life movement to view the woman with full sympathy.
Italy is a "dying country"
(13 February 2015, The Guardian)
More Italian Women are Choosing to Have No Children
(22 April 2014,
Wall Street Journal
)
While this article naturally focuses on economic forces leading to the choice of childlessness, we hear the very personal stories of past abortions contributing to a sense of unworthiness to become a mother. Imagine the pain as women hit age 45 realizing they aborted the only child they will ever carry. And imagine the family wound as others approach 35 or 40 still living with the mother who years ago encouraged them to abort and now continually asks when they will produce a grandchild. One of our women reponded to such a mother, who'd twice convinced her (at age 24 and 26) she was "too young" to have a child: "I gave you two grandchildren but you sent them away."
California Native Takes Rachel's Vineyard to the Old World
(Elizabeth Lev, Oct. 22, 2010,
Zenit
- original title "Healing Abortion Survivors")
Rome March for Life Testimonies